Pre-Qualifying vs. Pre-Approval: What Buyers Need to Know
If you are getting ready to buy your first home, or maybe you haven't purchased a property in some time, there are some important steps to take before you can make an offer on a property. Getting pre-approved for a mortgage is essential if you want your offer to be considered seriously, and will be required immediately before you can get very far into a purchase and sale contract to buy a house.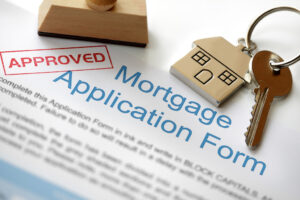 Pre-Approval vs. Pre-Qualification
They may sound like basically the same thing, but there is a big difference between getting a pre-approval from a lender and having been pre-qualified for a mortgage loan.
Getting a pre-qualification for a mortgage is quite simple – you call or visit a potential lender, provide some basic income and expense information, and the lender tells you the range of mortgages, and potential mortgage programs, that would work for you. With information like your annual income, approximate credit score, and current debts, a lender can give you a sense for what you can afford to purchase. Many times, you can even complete this process online through a lender's website.
Pre-qualification is not approval for a mortgage loan. The process is really just a casual conversation between you and a lender, and there is no commitment that lender will move forward with you to provide a mortgage. Think of it like calling your auto mechanic because your car is acting funny. You describe what is happening, and they give you an idea of what it might be and the corresponding cost. However, until it's actually in the shop, up on the lift, and fully inspected, is the actual work required and the subsequent costs known. A mechanic would never commit to the estimate given over the phone without a full inspection. Without providing hard and fast documentation of your income and expenses, and without a current and complete credit report, a lender cannot give you any formal approval. What a pre-qualification conversation is good for is to give you an idea of what prices range you can be looking in – what you can manage to pay for based on the monthly mortgage payment you can afford. So while this is a fine idea to get your started, once you are ready to seriously go house-hunting, you will want to take the time and effort to get pre-approved.
Pre-Approval Confirms You are Ready to Buy a Home
Unlike the quick and easy method of pre-qualification, getting pre-approved for a mortgage is a much more in-depth process. You will need to provide a number of income and expense documents to a lender, a full credit report will need to be run, and some form of mortgage application will need to be completed where you will provide employment history and other personal information. Getting pre-approved is fairly detailed, and may take a few days to complete, so plan accordingly. Once you receive a pre-approval, the lender will give you a formal letter stating what price range and loan product you have been pre-approved for. With this letter in hand, you are ready to talk to a realtor and go house hunting in earnest.
You will need to do all this anyway if you are planning to buy a property, so getting the process started out of the gate is a great idea. Not only will you have a realistic picture of what you can afford to shop for, but once you find a home you want to make an offer on, you will be ready to do so. Getting pre-approved is definitely worth your effort before making an offer on a property!
If you are planning to work with a real estate agent in your home search, they will likely want you to have pre-approval documentation. A professional real estate agent knows that your interest in a property will not be taken seriously if you cannot prove you can actually purchase the house. Also, it makes no sense for them to show you a $400,000 home if you can only afford a $250,000 home, and vice versa. Having a pre-approval letter in hand is a powerful tool if you find yourself in a multiple-offer situation as well. If another buyer has not been pre-approved, or cannot demonstrate the same financial strength you can, it puts you in the better buying position to the seller. Sellers do not want to mess around or waste their energies, they are interested in serious buyers only these days, so indicate that you are one.
Another good reason to get pre-approval is that once you find the home of your dreams, without pre-approval you will need to scramble to find a lender. This means you are at the mercy of who you can find quickly, and what loan product will work. You may also be able to close on the property faster as much of the leg work on the lending side will have been completed.
When you are ready to get pre-approved, be ready to provide your lender with the following documents:
Your most recent paystubs over the last 30 calendar days
Your last 2 years of tax returns
The most recent statements from all checking, savings, investment and retirement accounts
Details on any alimony, child support or other payments you are required by law to make
If you are self-employed, you will also be asked to provide the previous 2 years' business tax returns, as well as your personal tax returns, and a current Profit & Loss statement
Tax bills for any real estate you currently own.
If you have questions, or need help with getting ready to go house hunting – we are here to assist you. Please give us a call, and we'll help you get ready to go house hunting!