Steve Morrison, Designated Broker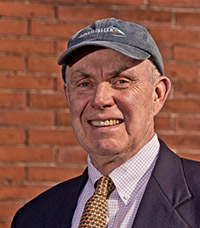 Steve Morrison has enjoyed more than 30 years in the Southern Maine real estate profession. He is fascinated by the unique aspects of each sale, and loves helping people realize their real estate goals. He has never lost his passion for all things real estate, and this keeps him motivated to continue to "do good business" each day.
He began his professional work in the construction field, and with a desire to translate his construction and development experience into work less physically taxing, he found real estate in 1983. Having worked with a number of builders, he focused on land development in the early years, then branched out into residential and commercial properties. In 1988 he started Morrison Real Estate, and began to grow his own brokerage firm. In 1998, he and his wife, Diane, purchased the historic building that houses Morrison Real Estate in Portland's West End.
Owning an independent, small brokerage firm allows Steve the freedom and flexibility to work with clients on a highly personalized level. Motivated by building relationships with his clients, He enjoys that he has reached a point in his career where he is now working with the adult children of former clients. His personal experience as an owner, investor and renovator of his own real estate gives him the ability to relate to his client's needs, and the emotional nature of real estate transactions.
Steve has great professional bandwidth, and believes having learned the fine points of the land development process, and managing projects involving numerous stake-holders, has given him the ability to navigate the complexities presented by so many real estate transactions and build superior problem-solving skills. He is a great negotiator, focused on directness, honesty and facts. Steve believes a negotiation is simply a conversation between interested parties with the objective to ideally meet the needs of both sides.
He still has great interest in land use and development, and believes very strongly in the importance of conservation to protect our open land and keep it accessible. He was [??] in (creating?) the Knights Pond Preserve for Royal River Conservation Trust, and currently is serving his 17th year on the North Yarmouth Planning Board, where he is the incoming Chair.
Steve lives in North Yarmouth with his wife, Diane. Their two adult children still call the Portland area home, and his daughter, Stephanie, is part of his real estate team. Steve loves the water and is an avid boater and kayaker. Most recently, Thompson Lake is one of Steve's favorite places having bought a true Maine camp.
Member: National Association of Realtors, Maine Association of Realtors, Portland Board of Realtors
Former Board Member: Portland Board of Realtors Board of Directors
Member: North Yarmouth, Maine Planning Board (17 years of service)
Mediator: Portland Grievance Committee
Steve Morrison can be reached at 207-671-2523, steve@morrisonrealtors.com