Stephanie Morrison, Associate Broker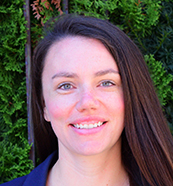 Stephanie joined the family business in 2014, after attending Fordham University, spending a few years traveling around Asia and South America, then working locally in the food and wine industry. Gaining exceptional customer service skills, her experiences translate perfectly into her real estate career. Not only does she excel in giving her clients superior customer service, but she also has a natural intuition and knack for the industry. Stephanie was raised in real estate and is excited to follow in her parents' footsteps, and focuses her energies on working with MRE buyer clients.
Stephanie's goal is for her clients to love their new home. She wants them to feel comfortable, safe and confident in their purchase decision. As a recent first-time homeowner herself, she enjoys working with her contemporaries. Stephanie works to make sure clients understand the real estate buying process, and she enjoys helping them determine what communities to house-hunt in, and what properties fit their needs.
Stephanie is a newlywed, and lives with her husband Sylvan in their "fixer-upper" bungalow-style home in South Portland. They enjoy traveling, spending their weekends learning renovation techniques, and enjoying time with friends at Portland's gathering spots.
Member: National Association of Realtors, Maine Association of Realtors, Greater Portland Board of Realtors
Stephanie Morrison can be reached at 207-939-9405, stephanie@morrisonrealtors.com